Discover more from DotLeap
The most comprehensive weekly newsletter for the Polkadot ecosystem featuring updates on the relay chain, governance, parachains, tools, community, and more.
Over 3,000 subscribers
Dot Leap 7
No redenomination for DOTs, an open source mobile Flutter-based wallet, a directory of Kusama projects, and more!
Thank you for taking the Dot Leap!
We cover Polkadot, Kusama, Substrate, and all related and unrelated Web 3.0 projects!
For the Ethereum side of Web 3.0, please subscribe to Evan's newsletter.
The content in this newsletter is the author's own opinion and not in any way endorsed by the Web3 Foundation. This is an independent and unaffiliated effort.
---
Story of the Week: Redenomination Proposal
A little over a week ago, Logan Saether of the tech ed team at Web3 Foundation used Kusama's governance to put forth a referendum.
The goal of the referendum was to gauge people's opinion on changing the redenomination of DOT. The decimal point would be moved two digits over and all DOT balances would effectively be increased by a factor of 100.
The proposal was explained on Polkassembly.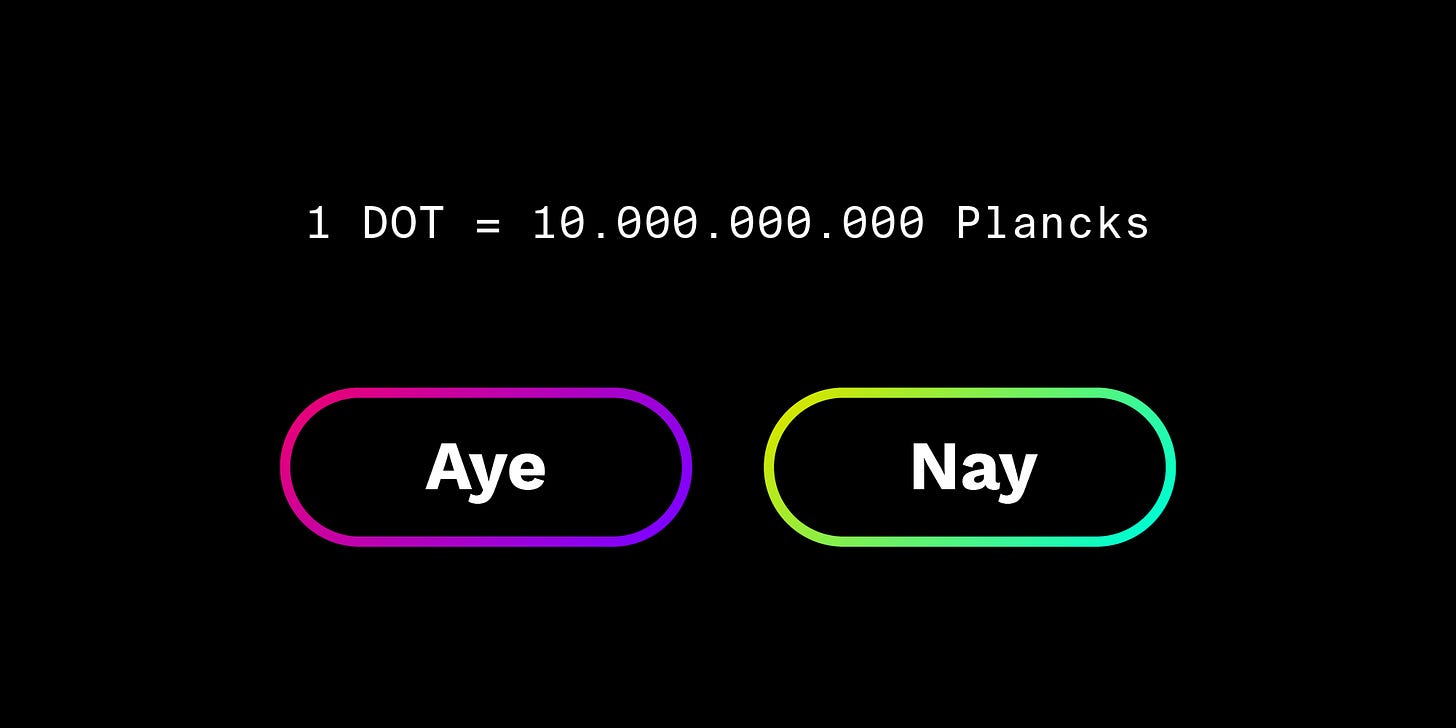 Fast-forward one week, and the referendum has been the most controversial and most active in Kusama's short history. Not only was the turnout impressive (way above the officially reported 13% given that W3F and Parity - both large holders - abstained), but the amount of discussion it generated showed us that KSM holders are able and willing to participate in on-chain governance.
The referendum did end up having more Aye votes than Nay votes, but given that the opposition of the minority was so strong and definitely not trivial in numbers, the Web3 Foundation decided not to go ahead with the redenomination until it can be accurately gauged on Polkadot once launched.
Here's the full post about the matter from W3F.
---
Polkadot 
👇👇👇 LAUNCH INFO 👇👇👇
---
Remember a few weeks ago when we mentioned that due to a bug the Kusama treasury hasn't been getting the fees it should have been getting? Well, that's fixed now - observe the treasury balance after block 2.2m! Wheee! 📈

---
🚨 Something I didn't know! 🚨
When batching transactions (sending multiple extrinsics at once), you can batch a bond and a nomination together. 🤔
In other words, if you're bonding some tokens with the intent to nominate with them, and you immediately declare validators you want to nominate, it works just fine despite the bonding transaction not having been "mined" yet.
This is because transactions mutate state directly, not after a block is sealed, and so the data needed for the nomination to go through is already there - this is opposite to how other blockchains work. All that matters is that the order of transactions is correct - nomination after bonding.
---
🏛 Kusama Governance
---
( ͡✧ ͜ʖ ͡✧)

Substrate licenses have been updated!

( ͡✧ ͜ʖ ͡✧)

🛠 Tools
---
👨‍🎓 Education
---
🤝 Ecosystem
---
📅 Upcoming Events and Webinars
---
That's it for this week - I hope this was as useful for you to read as it was for me to write! Special thanks to Bill for his daily digest!
The Dot Leap is put together by Bruno Škvorc. Got any links for me for the next edition? Find me on Riot at @bruno:web3.foundation, on Twitter, or via email at bruno@bitfalls.com.