Discover more from DotLeap
The most comprehensive weekly newsletter for the Polkadot ecosystem featuring updates on the relay chain, governance, parachains, tools, community, and more.
Over 3,000 subscribers
Dot Leap 13
Polkadot has decentralized! Also: if a chain has on-chain governance, is it a tokenholder's duty to vote? YES!
Thank you for taking the Dot Leap!
We cover Polkadot, Kusama, Substrate, and all related Web 3.0 projects!
The content in this newsletter is the author's own opinion and not in any way endorsed by the Web3 Foundation. This is an independent and unaffiliated effort.
---

Looking for human-friendly explainers and tutorials on how to get started building tools and UIs for Substrate chains? Check out our parent site: DotLeap.com
---
Polkadot's Decentralization
Sudo has been removed, its removal initiated by the July 20th Polkadot Council.
Acting members Jaco, Listen, Jack, Fabi, Jutta, Shawn Tabrizi, Joe, Jam, Gav, Wei, Polkascan Foundation, Bruno (yours truly!), and Chevdor approved the first Polkadot Council Motion which would put the governance of the Polkadot protocol into the hands of the People.
The next step was submitting the proposal to the Technical Committee for speed-up, after which, the motion became a fast referendum, needing 12 hours to vote, and 15 to be enacted.
On Tuesday, around 8am UTC+2, the Sudo module was removed. The network was released into the hands of the community. Soon thereafter, full governance functionality has been enabled.
---
👇👇👇 IMPORTANT 👇👇👇
General governance and Council elections have been activated in Polkadot. The council terms will first be daily, then weekly, then monthly, as a slow on-ramp for Council Member reputations and backing.

Yours truly is a candidate too, so if you think my contributions to the Polkadot ecosystem are worthy of your support, please consider voting for me. Here's a post that explains my candidacy and shows the voting process in screenshots.
Redenomination
The on-chain poll to gauge support for DOT redenomination has passed at x100, meaning once transfers are enabled -about 3 weeks from now - everyone's DOT balance will increase a hundredfold. This change is purely cosmetic and practical, not economic.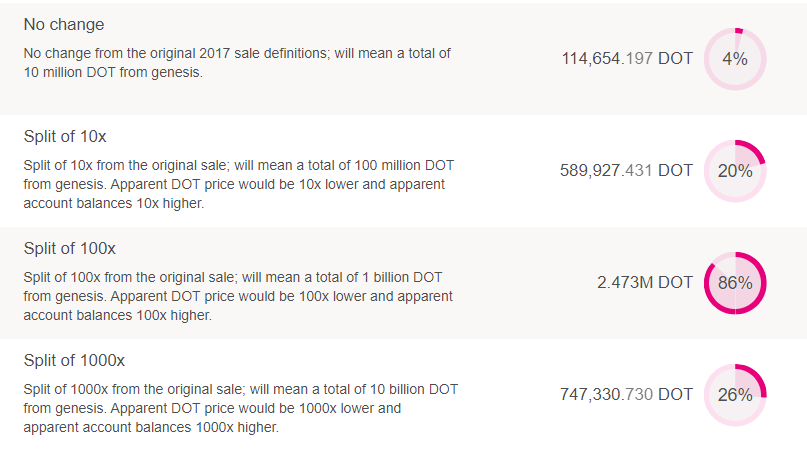 Coming Changes in Native Code
Among other things mentioned below in Core Stack:
All the above from here. This will be applied in the next runtime upgrade, once Referendum 1 passes (see below).
Polkadot Governance
---
🚨 Something I didn't know! 🚨
If you as a validator get slashed by a non-zero amount, your nominations are ignored until they are re-submitted again. This can lead to a situation where it seems like a validator has enough backing to be elected, but it doesn't happen.
Substrate Debug Kit has an offline-election app which has been upgraded - apart from calculating validator elections offline, it can now detect this scenario with the validator-check and nominator-check subcommands!
---
💥 Chaos
Referendum 71 had the goal to increase the validator count by 2 every 3600 blocks (1 era) 336 times (roughly over the course of 3 months).
This referendum was to be executed in block 3,200,000 with the goal of reaching 1000 validators by the end of the year in an orderly manner. Unfortunately, the referendum was executed after block 3,200,000 and therefore failed to be executed.
Since this proposal passed publicly and to get things going on this matter, motion 185 has the same goal as referendum 71, but will be executed in block no. 3,400,000. It has been fast tracked by Technical Committee, since the community has already approved it.
🏛 Kusama Governance
A detailed digest for the week of July 13th is available here and the week of July 20th here.
---
🔩 Core Stack
---
Ethereum Compatibility
As Moonbeam and Parity's Frontier mature, I believe it's worth having a separate section discussing Ethereum compatibility with Substrate and Polkadot in general. The potential for collaboration between the two ecosystems is immense.
---
🛠 Tools
---
🤝 Ecosystem
---
That's it for this week - I hope this was as useful for you to read as it was for me to write! Special thanks to Bill for his Daily Digest!
The Dot Leap is put together by Bruno Škvorc. Got any links for me for the next edition? Find me on Riot at @bruno:web3.foundation, on Twitter, or via email at bruno@bitfalls.com.